ABLE184 is an Android based application that provides reliable data communication through data compression, packet communications, and adaptive error-correction processing of user data to allow high-throughput reliable data transfer over noisy RF communication channels. The application is based on a link-layer protocol specified in the MIL-STD-188-184A, "Interoperability Standard For The Data Control Waveform."
ABLE184-S is an enhanced version of ABLE184 that provides additional transmission privacy and protection using widely used ciphers Advanced Encryption System (AES) and Blowfish encryption.
Both ABLE184 and ABLE184-S have been thoroughly tested and available for commercial sales.
email: able184@ablecommtech.com for more information/to place an order.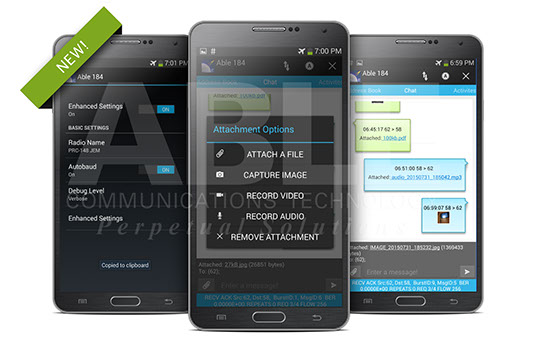 Warfighter Edition
Cybersecurity solutions for the modern warfighter. Secure communications over multi-band, multi-mission radios.
Do you need to send and receive critical data with assured, error-free delivery in highly contested radio channels?
Do you need to maintain backward interoperability with legacy data control applications such as Windows based PDA-184?
Are your missions sensitive and require security when radio cipher key is unavailable?
Do you maneuver and need to reduce the burden of legacy devices that have large size, weight, and power requirements.
Does your budget necessitate new devices at lower cost and same or better capabilities?
ABLE184 is a modern data controller that operates on small size, weight, and power requirements offered by various Android smartphones and tablets. Practically any network capable device with USB interface can be used and connect with many new-generation military multi-band radios.
The ABLE184 app is backward compatible with earlier generation Windows programs such as DISA's PDA-184 and Viasat's VDC.
ABLE184 has been tested with PRC-148 JEM, PRC-148B MBITR2, PRC-117G, and PRC-152A radios. Works with those radios in LOS, SINGCARS, SATCOM, DAMA, and Integrated Waveform (IW) modes.
WiFi Edition
Cybersecurity Solutions. Be cyber-secure over public, private, and secure networks.
Do you need to send proprietary or private data communication from "open" Wifi access points (hotels, coffee shops, public access hot-spots)?
Do you want to ensure your data communications are private, regardless of communication network?
ABLE184 WiFi Edition offers end-to-end data encryption using a choice of Blowfish and AES strong ciphers. Your data remains secure throughout the entire network transmission path which includes many devices and a similar number of opportunities for intercept.
Unlike most common types of network security processes such as SSL and TLS, ABLE184 does not require client/server configurations with third and fourth party hardware and encryption keys with certificates. Therefore, ABLE184 mitigates intercept and cipher cracking from imposter hardware and software with access to SSL/TLS connections. ABLLE184 uses robust communication protocol and error correction processes that are more capable than commercial standard UDP and TCP/IP. Missing data or data with uncorrectable errors will be automatically resent.
Features for Both Editions
Android application for smartphones and tablets; send text/chat messages, audio recording, pictures, and recorded video.
Point-to-point secure data transfer.
Point-to-multipoint secure data transfer.
AES and Blowfish encryption

each user can have their own unique key
change keys easily, as often as you like

Does not require certificates from third parties (prevents man-in-middle hacks).
The receiving ABLE184 can automatically manage and select keys for decryption of each sender's data.
Automatic data compression and error correction.
Packetized transfer for optimum data control and error free delivery.
Use without encryption, if desired.
UHF Satellite Simulator
We can offer two channel or four channel satellite simulator designs for testing with multi-band, multi-mission radios and our RF distribution assemblies. We can also custom configure our satellite simulators for use with MUOS radios.
RF Distribution Systems: Custom Built Manufacturing
We can tailor these RF Distribution Systems to meet your specific needs and requirements. Each system is made to order and custom built. We will work with you every step of the way from the initial conception, design and manufacturing, and system set up. We also offer full training services for our custom made devices and more.
RF Distribution System
Model: 184-12-05
RF Distribution System
Model: 1828-05
The 184-12-05 is designed for testing radios in conjunction with satellite simulators or LOS mode of operation. This system can enable up to 12 half duplex radios or six (6) full duplex or combinations of each to interface with up to four (5) UHF satellite simulator channels. The design eliminates transmit to receive noise interference when using radios from different vendors.
The 1828-05 is specifically designed to interface with four (4) channel radios and provide a single RF uplink and downlink interface for four (4) channel full duplex radios and provide a single antenna interface.
Contact Us today for more information on these custom built RF Distribution Systems.

240-674-6607
info@ablecommtech.com
Po Box 247, Libertytown, MD 21762
RF Distribution Systems
Communications Software
Secure Network
PDA-184 Training
Copyright © 2015 Able Communications Technology